My Pig Collection Continues!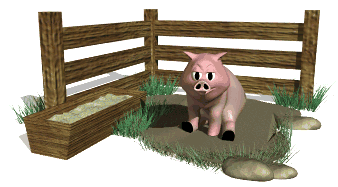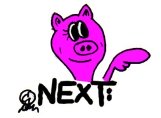 Pig Collection translated into German means Schweine Sammlung!
The next few pages are dedicated to my German Friends with partial german links :@)
I am sure you wonder where I keep all my pigs. But currently they are stored in 2 countries; Germany & Ireland!
On our next visit to Germany we will open some boxes again & take some more pictures of previously unpublished piggies to add them to our website, so you can admire more of our online collection/ museum :@)
Sometimes even I am surprised what kind of pig items are out there! Just amazing! Hope you enjoy them as much as I do :@)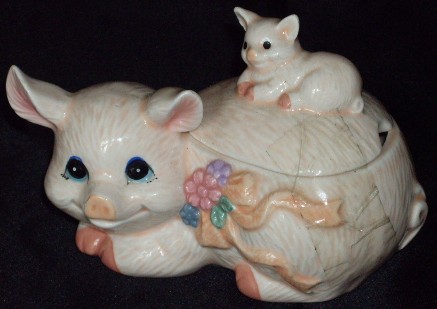 I found this cute pig sugar bowl in an antique store in Laytown, Ireland ...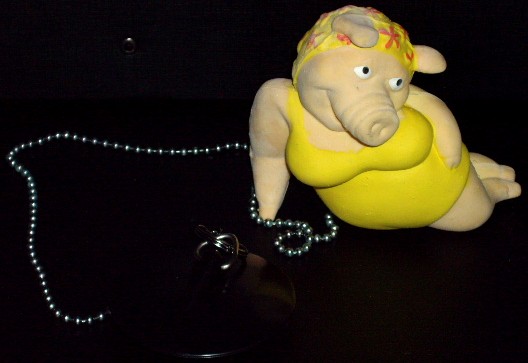 Not sure how you call this one here... Piggie Bath Tub Drain Plug? :@)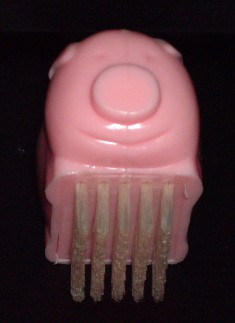 Pig Nail Brush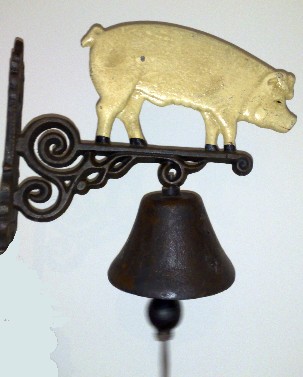 This is an antique pig door bell :o) Me & Line found this one in Berlin one evening in March 2009; the shop owner had it for years & couldn't get rid of it until I came along :o)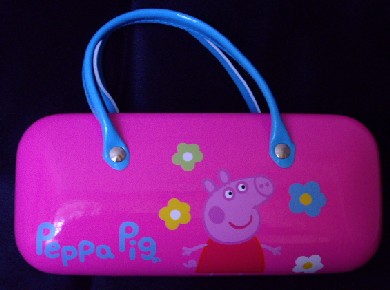 Peppa Pig Glasses Case

Pig Figurine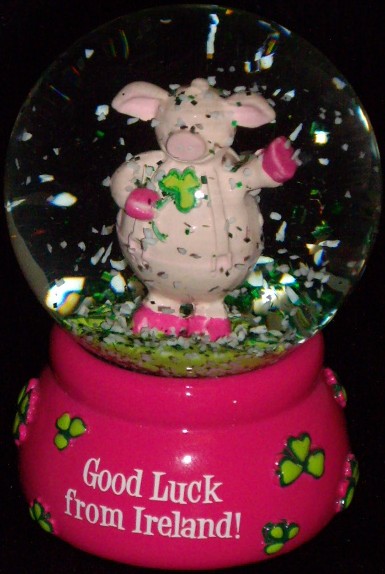 Irish Pig Water Globe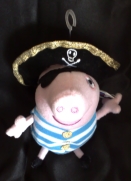 Gary collects Pirates & I collect Pigs... couldn't have found a better item to represent the both of us... a grunting pirate peppa pig :o)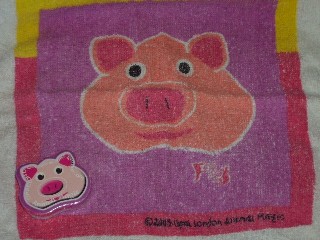 You can watch it grow! This Pig compressed cotton face flannel, when placed in water, will grow into a 30cm cloth bearing a cute piggie face! I bought this one on our 3 day trip to co Clare, Ireland, in Nenagh 2008.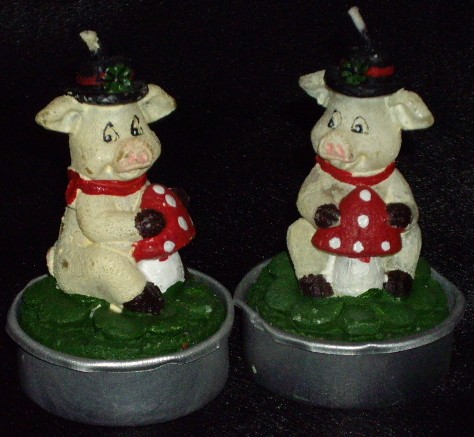 My mom mailed these 2 cute pig tea candles from Germany to me, when i lived in Bermuda in 2006... and of course they travelled back to Ireland with us when we moved :o)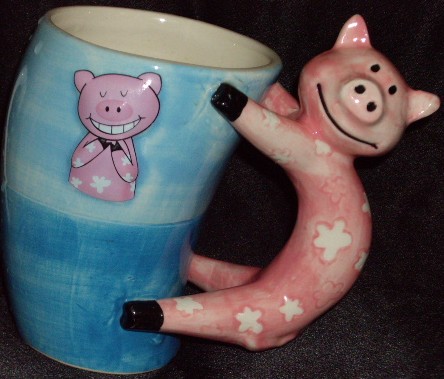 I bought this irresistible cute pig cup in Dublin 2007.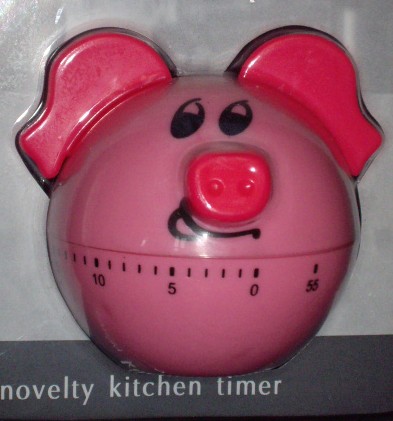 Pig Kitchen Timer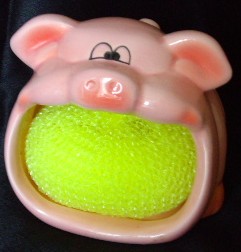 Pig Sponge Holder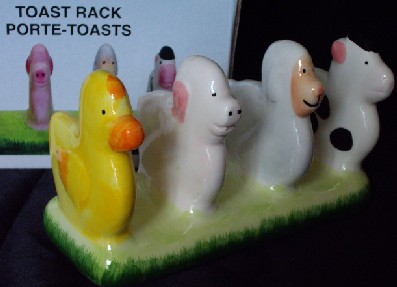 Belongs on everybody's Kitchen Table! The Pig Toast Rack!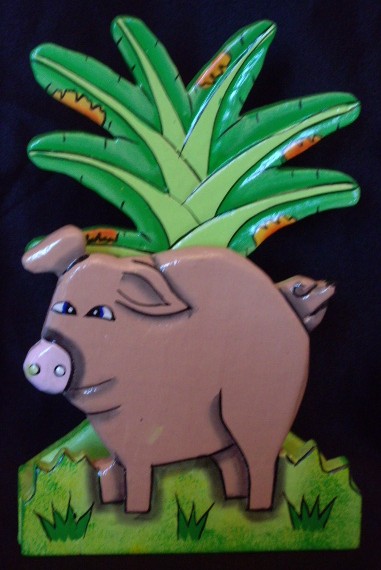 This cute Pig Napkin Holder we located at a festival in Dun Laoghaire, Ireland, in 2007.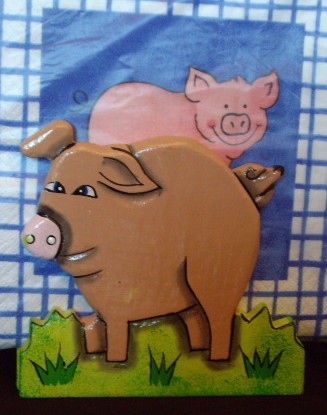 ... and here is the Pig Napkin Holder with Pig Napkins from Germany :@)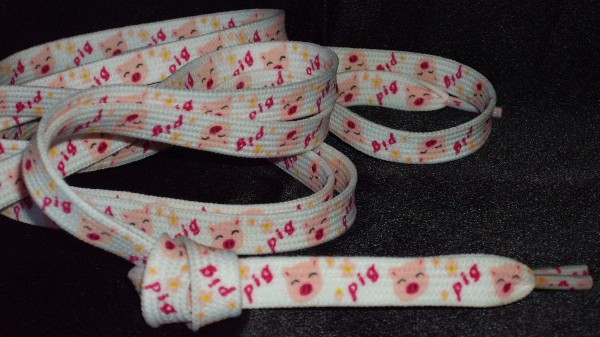 Pig Shoe Laces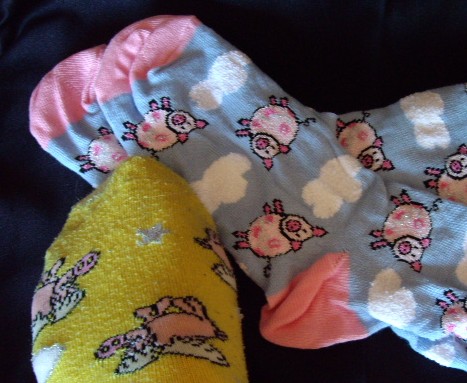 Pig Socks :@) one pair I bought in Bermuda, the other in Ireland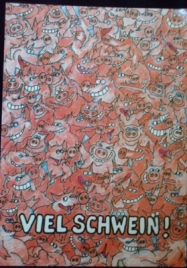 In Germany people give each other little pig figurines to wish each other luck. This Postcard, which I got from Meike & Carsten in 2004, wishes "Much Pig"; so lots of luck :@)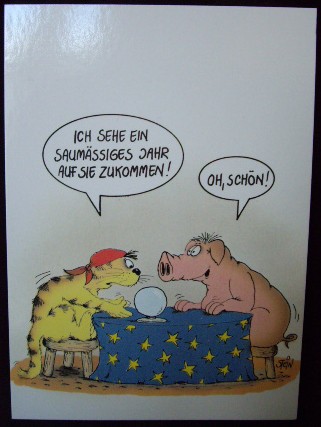 This is a birthday card, that I received from my parents in 2008. I am a big fan of the artist; he always has funny word games involved; The fortuneteller foresees a "Pig-Full-Year". In this case the pig thinks its a great thing (a year with lots of pigs)... but what it really means is a lousy year...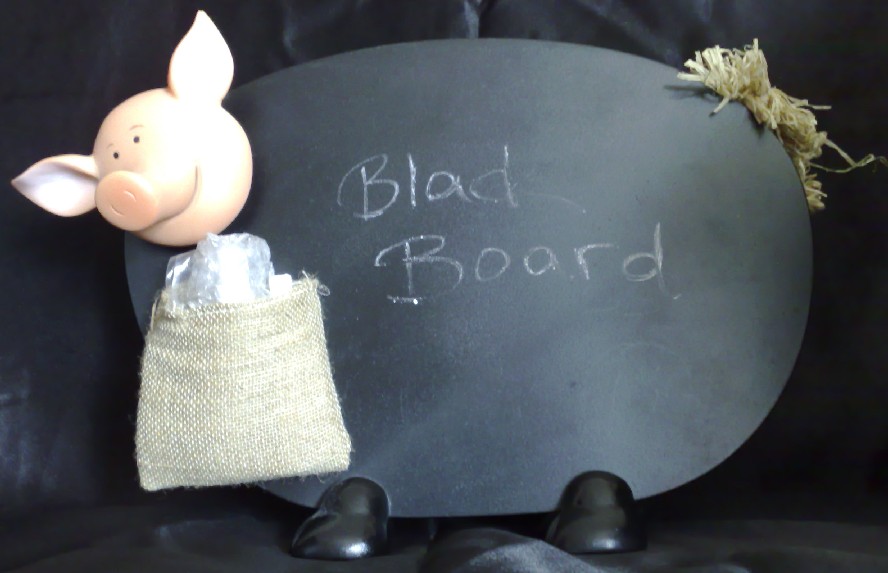 Pig Black Board

When our godchildren came for a visit to Ireland in 2008, I went to search for a toilet seat & stool... never thought I would find some items for my collection in this connection! :o) amazing, huh?

Since I didn't plan to go on a shopping spree, I didn't bring my backpack with me & the plastic bag i got from the shop broke after not even 2 min carrying it... so I had to walk through the city of Dublin carrying this Pig with its Toilet Brush in its behind in my bare hands... you can imagine the looks I got! :o)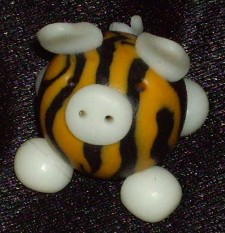 This little cute pig figurine I received from sista N's Mom... yes I got everybody seeing pigs now ;o)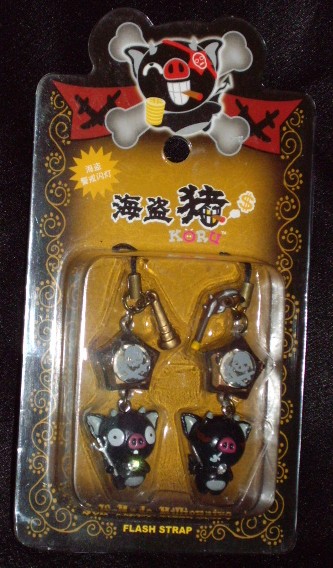 These funny looking pig cell phone flash straps I bought in Dublin 2008 at the chinese new year festival ;o)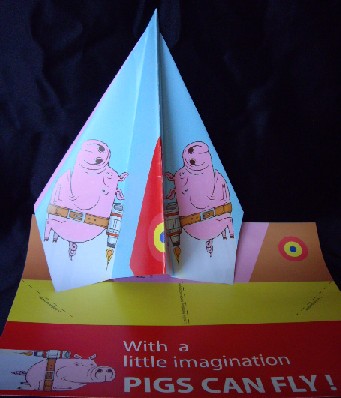 This pig paper plane is actually advertising... but definitively shall not be missed in my collection ;o) pigs can fly!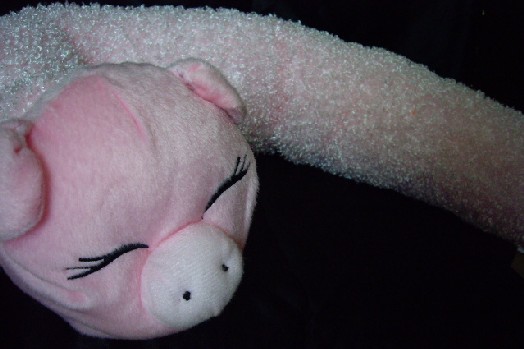 Well, I call this one here Pig-Door-Draft-Breaker; basically you put it on the ground in front of your door to keep the heat in the room ;o)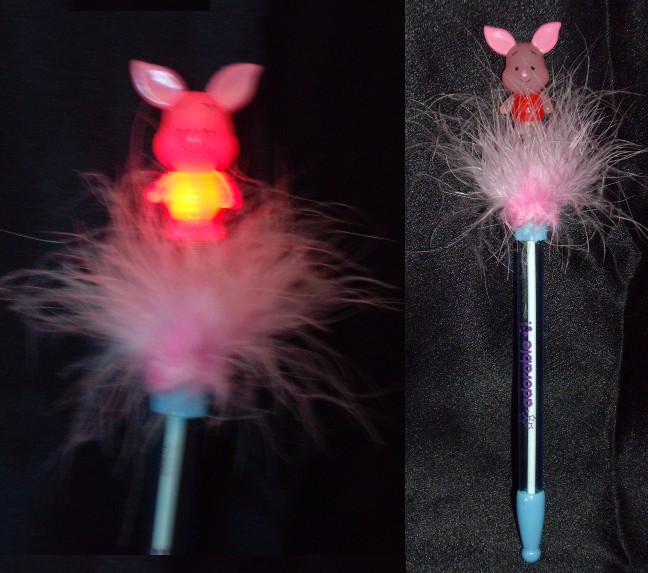 This is a Pig Light Up Pen!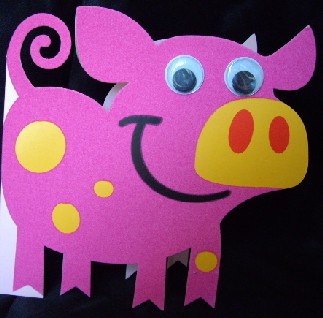 Meike & Carsten sent another Pig Birthday card!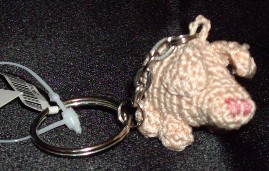 This cute Croche Pig Key Chain Hanger I acquired in 2007 at Dublin Airport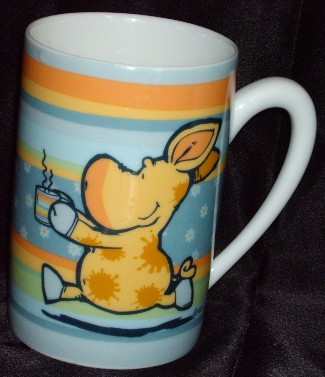 Line mailed me this charming pig cup for my birthay in 2008!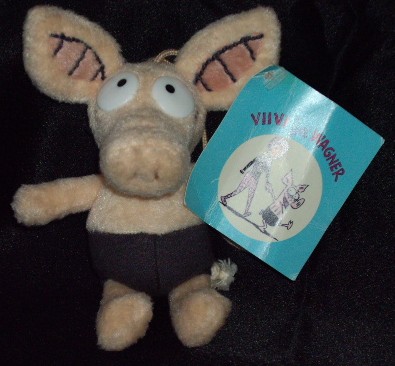 This cute pig was mailed to me by Andrea from Finland! Wagner the Pig :@) If you would like to read more about him... pls visit our: Famous Pigs Hall of Fame!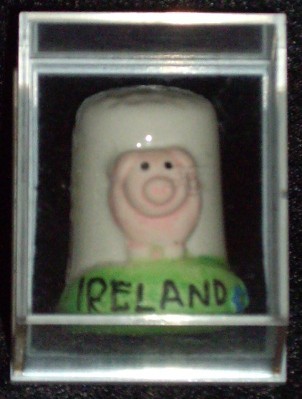 In 2007 in an irish tourist shop, I located this adorable pig timbel!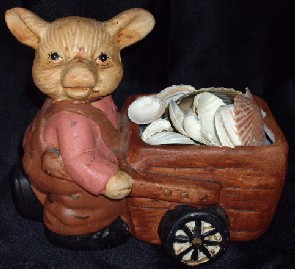 Even when I am not looking... I somehow always seem to spot a pig for my collection... like this cute Pig Pot Figurine.

Pig Patch Decoration from Germany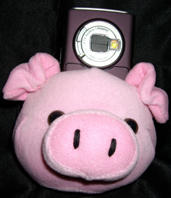 This is a cute Pig Cell Phone Holder that I found in an airport shop one day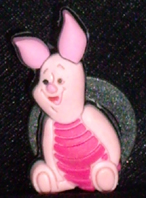 This is a very small jibbitz pig for crocs shoes that I found in a shoe shop while on a trip to Scotland.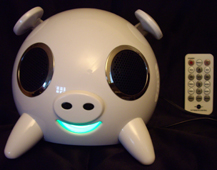 I finally got it! The coolest gadget in town :@) A Pig Ipot Docking Station with Speakers! But you don't need an ipod to listen to a great sound! They are compatible for the computer & laptop, too!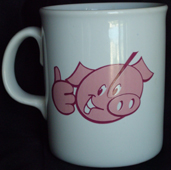 another pigsback.com item: a cup!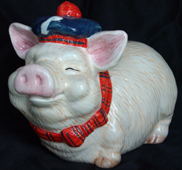 Not really hard to guess where this piggie bank is from huh? :o) I brought it back from a trip to Edinburgh.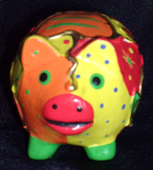 This is a Hand Painted Ornamental Pig from Africa.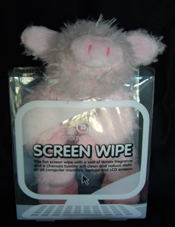 This is a Computer Monitor Pig Screen Wipe! :@)
This fun screen wipe with a zest of lemon fragrance and a chamois tummy will clean and reduce static on all computer monitors, laptops and LCD screens.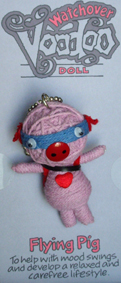 To help with mood swings and develop a relaxed and carefree lifestyle, this Flying Watchover Voodoo Pig Doll is a fun accessory.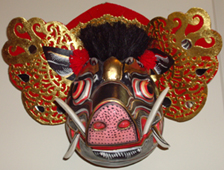 This is a Wooden Hindu Pig Mask!


---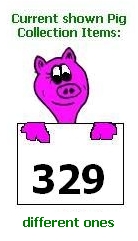 pls click here to see more of my pig collection :@)