Indigo - Color of the Midnight Sky

The Indigo ray of the rainbow symbolizes the bridge between the finite and the infinite and opens the door between the earthly dimension and the spiritual plane. We feel it is thus fitting to feature Rainbows and the Rainbow Bridge Poem in this section.
We are constantly updating our pages and adding new content. Please subscribe to our RSS and/or our monthly newsletter and e-zine "Colours-of-the-Month" to recieve constant updates. Our newsletter contains updates to our website plus regular features only available to our subscribers like special recipes of the month, discounts for music downloads, links to online movies and movie reviews, special travel reviews and tips on airfare specials and lots more!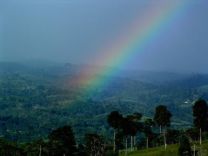 Read about refraction and how rainbows are formed on this page about Rainbows.
Each of the colors of the rainbow has its own special Meaning. Find out what they are here.
The Meanings of The Different Colors in a Rainbow.
The Rainbow Bridge is a beautiful poem written specifically to help pet owners cope with the loss of their loyal companion. It's a beautiful parable about a paradise where owner and pet are reunited.
Just this side of heaven is a place called Rainbow Bridge. Read The Rainbow Bridge Poem and other Rainbow Poems Here.
Many different countries and the cultures within them have long told legends, fables and folk tales regarding rainbows.We have stories from The Hawaiian Nation, The Indian Nations, Ireland of course, and even one from Guam.
Rainbow myths and legends from around the world!