Going Green. Welcome to Our Ireland!
Green is the color of nature, fertility and life. It represents balance and well being and means learning, growth and harmony. It is also the national color of Ireland! There is no doubt that Ireland exudes nature, and since being here, Daniela and I have experienced a period of growth and learning and living in Ireland has definitely been good for our well-being! When we discussed color schemes for our magazine, Ireland was a very easy choice for green! These pages reflect the nature of Ireland, from its beautiful walking trails and green countryside to nourishing Irish recipes, Irish myths and legends and much more!
We are constantly updating our pages and adding new content. Please subscribe to our RSS and/or our monthly newsletter and e-zine "Colours-of-the-Month" to recieve constant updates. Our newsletter contains updates to our website plus regular features only available to our subscribers like special recipes of the month, discounts for music downloads, links to online movies and movie reviews, special travel reviews and tips on airfare specials and lots more!
These pages are all about where we live, on the coast of North County Dublin.
We are out in the country living near the seaside, yet only 15 minutes away from Dublin City Center!
Ireland abounds in legends, from the mythical Irish Leprechaun to the Blarney Stone, and is also home to some very scary "Fairies"!
Irish Fairies are fascinating and have played an important role in shaping cultural beliefs worldwide.
There are some great Golf courses in the Dublin area, many accessible by public transportation.
Walking is one of our favorite pastimes here in Ireland. The scenery is so beautiful that you sometimes don't realize how long you've been walking, or how far you've gone!
Here's some of the walks we've been on since being in Ireland.
Ireland is famous for its many many ghost stories. We are pleased to add this new page to colours-of-the-rainbow.com in the hopes that it will both entertain and amuse you. Perhaps you know a famous Irish Ghost story that we don't! Please feel free to send it to us via our contact form and we will be happy to add it, giving you full credit of course. Cheers!
The heartiness of the Irish people is reflected in traditional Irish recipes, from beginnining the day with a wholesome breakfast to ending the day with a nourishing stew and tasty dessert.
If you're going walking you're going to need a hearty Irish Breakfast! Check out some of our traditional Irish recipes.
Meet Granny Flanagan, a culinary treasure! Granny Flanagan bakes and cooks the old fashioned way. Her recipes have been handed down to her from her mother, who got them from her mother!
Introducing the one and only Granny Flanagan!
Granny Flanagan has some interesting approaches to cooking and baking. Here you'll find some of her favorites.
Cooking and Baking The Granny Flanagan Way!
Might as well sing an Irish song while you're walking along!
It's amazing how often we sing these Irish songs, or hear people singing them, without realizing their Irish roots.
The Druids were expert botanists and herbalists, as well as being the priests and overseers of the Celtic people. Here are some of the plants and herbs they used and where you can find them growing naturally in Ireland today.
Plants Used For Medicine by the Ancient Celts
Nothing says Green like healthy Organic goodies. There are some wonderful organic markets in Dublin. Here are some of our favorites!
Organic Oases in Dublin Ireland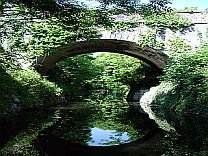 Nothing says green like the Royal Canal! The Royal Canal is definitely one of Ireland's best kept secrets! Located in the Dublin area and overshadowed by its sister the Grand Canal, the Royal Canal was never the commercial success hoped for and until recently was thought to have no place in modern Ireland. However due to a restoration program begun in 1974, it is now quite the viable destination for nature lovers and boaters.
Here Are Some Pictures and Info for Walking and Boating on the Royal Canal


---
---