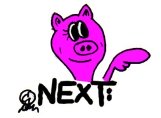 As you can see I am a very dedicated Pig Collector...


... but how can you stop when you can always find something more suitable or more unique pig for my collection?
I bet you are still amazed what can be found in the shape of a pig :@)
My pig collection consists of pigs from A to Z... well, actually I could need your help for Q and Z... anybody wants to make me a pig quilt?? :) or house a zoo pig for me?? :) maybe you even have a better suggestion??? Looking forward to hearing from you!!!
So here it comes..
My pig online museum begins with - Feel free to guess :@)

A like address book
B like bath tub drain plug
C like coocoo clock
D like dolls with and without sound
E like egg cup
F like facecloth
G like glasses
H like handbag
I like ice spoon
J like jar topper for candle
K like key chain
L like light up pen
M like magnet
N like nivea tin can
O like ornament
Q like quaint figurine
P like photo frame
R like ring
S like sugar bowl
T like teapot
U like umbrella
V like voodoo pig
W like wallet
X like xmas tree decoration
Y like yummy pig candies and
Z like zappy :@)

Isn't this an adorable addressbook? Trüffel is the boar, Rosalie the pink piggie that is on the front of this cute addressbook...
We will upload them soon in our Famous Pigs Hall of Fame! Famous Pigs Hall Of Fame Link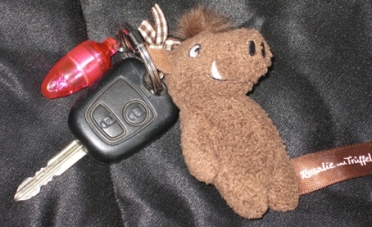 .
.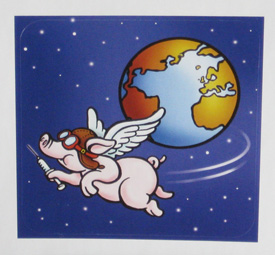 .
Australian designed environmentally friendly pig that Gary brought back from a trip to Barton-Under-Needwood for me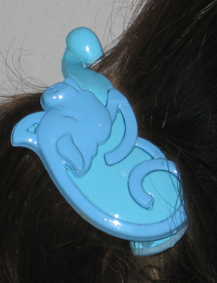 .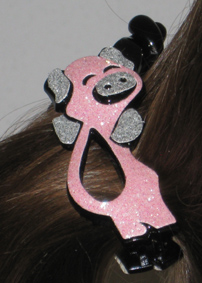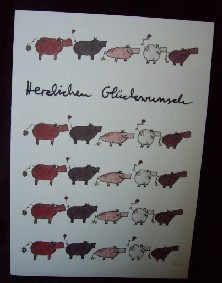 .
.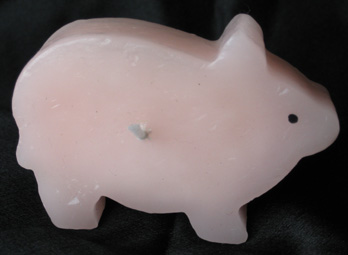 .
Paul got me those cute party bags from a trip to Bournemouth :@)
When I passed a postoffice in a small town in the Taunus in Germany I saw this huge Pig Courier Package Box and of course... I couldn't pass without it under my arm :)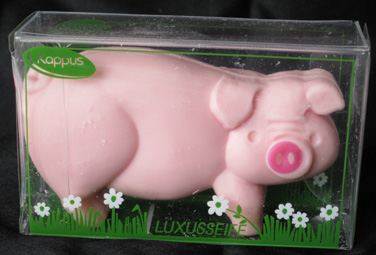 .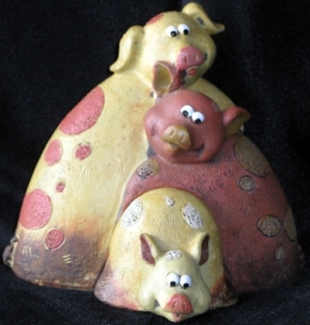 .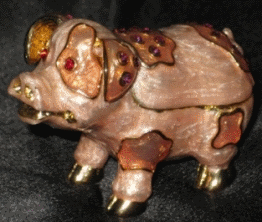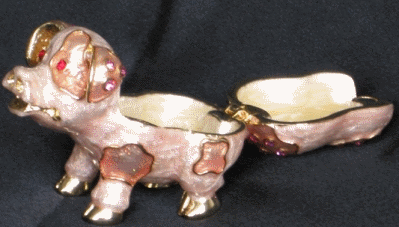 A lovely place to hide my jewlery huh? :)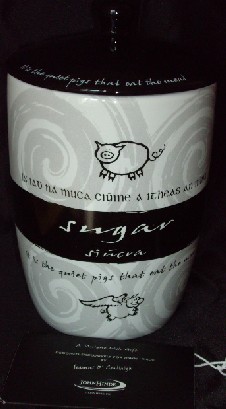 .
.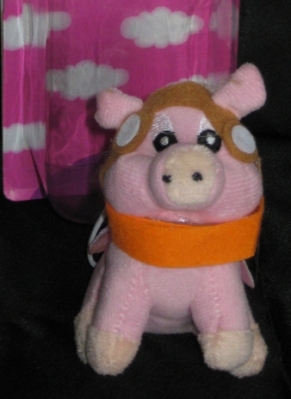 This cute pig air freshner is actually flying in my van wherever we go :@)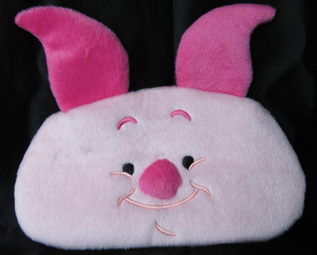 .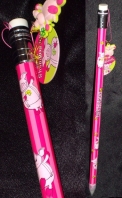 .
.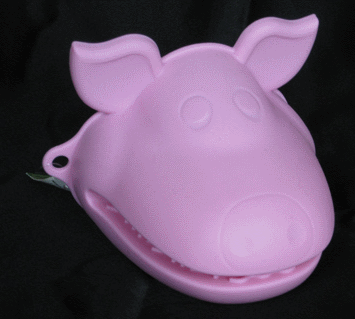 .
.
Meike and Carsten found this adorable pig hot plate as a birthday gift for me... I could not put a hot pot on this cute face, so nothing to worry about... it's completely unharmed in our room :@)

Isn't this a cute pig straw?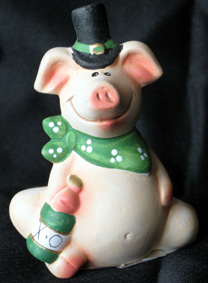 .
.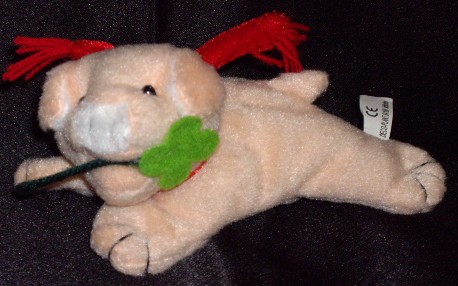 .
.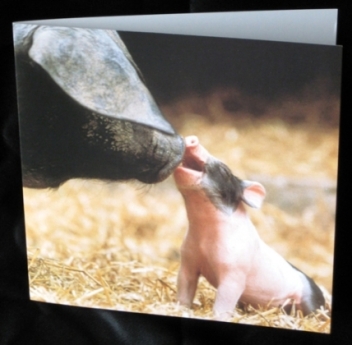 .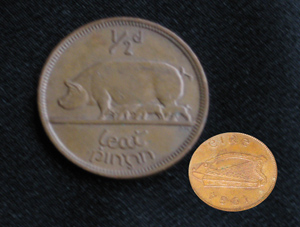 I purchased this Irish Pig Coin from 1964 (before the EUR-Times) in an indoor market in Dublin (Georges Street Arcade) in 2010 after a trip to the writers museum, where I first layed my eyes on the coin... just to be on the safe side... I probably still have some coins in one of my boxes in my parents house from previous trips to Ireland..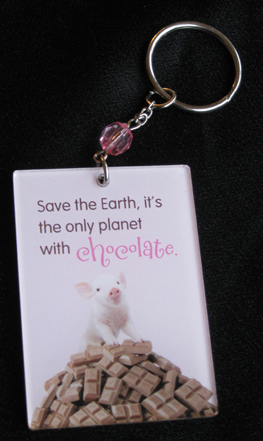 .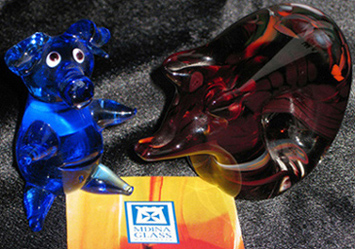 On our anniversary trip to Malta & Gozo in 2010 we came across the famous Mdina Glass - and of course they made pigs also :@) so I had to get two different kind - one Mdina Glass Pig from the Mainland (the blue one) & one from Gozo (the bronw one)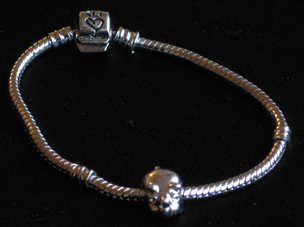 Well, I believe I bought a pig bead here... the shop assistant in Blanchardstown thought it was Buddha... what do you think? :)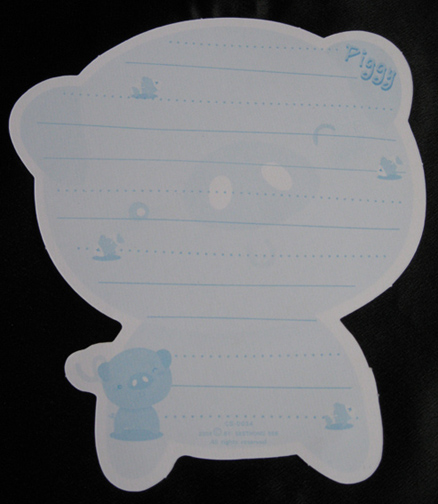 .
So that I write more often, sista N sent me this pig pen :@)
My goodness!! This pig snout mug matches exacly my skin tone!! Hillarious :) Thx Line :) Oops... just remember, I still owe you a picture of me with it...


---
there is still more to see of my pig museum :@) pls click here