Best Places to Golf Dublin

Golf Dublin along the DART Line
You can golf in Dublin in many areas along the DART line. The DART is Dublin's rail system (Dublin Area Rapid Transport) and runs very regularly from Greystones in the south up to Malahide and Howth in the North. All of these courses are accessible via the DART.
---
---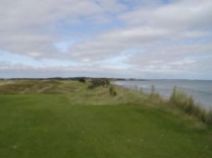 Golf Dublin - Portmarnock
The Portmarnock Hotel and Golf Links has been the sight of 15 Irish Opens, The Walker Cup and also the Canada Cup, and is a great place to golf in Dublin. The course borders the beautiful Portmarnock beach and the hotel is 4 star, the main house of which was originally owned by the Jameson's, the famous family of Irish Whisky!
Portmarnock Links is a 6,956 yard 18 hole beauty designed by Bernhard Langer and the spacious grounds feature a range of sporting and leisure facilities whilst the hotel offers a choice of restaurants and bars, conference and meeting facilities, and the Oceana Health Spa.
The downside is that Portmarnock is one of the most expensive golf courses in Ireland, with green fees at €195, but consider it a small price to pay to walk in the footsteps of the world's greatest, and maybe even hit out of one of their divots!
Golf Dublin - Malahide
Malahide is a gorgeous upscale seaside village with lots of unique shops, restaurant and of course the popular Gibney's pub. It is also home to one of the best venues for golf in Dublin.
Malahide Golf Club was originally founded by Irish landscape painter Nathaniel Hone in 1892 and has since moved, due to erosion of the original links, to Beechwood, a 27 hole championship layout, where you can play any two of the three challenging nine hole courses in any combination. Green fees are a reasonable €55 in summer, €35 in winter with a golf cart going for €36.
Malahide Golf Club

Golf Dublin - Howth
Also on the DART line, is the charismatic fishing village of Howth. If you visit Howth on a Sunday you can avail yourself of the many wonderful food and gift stalls that populate the weekly market right in the village square.Dublin sausage, crepes, assorted pastries, jams, organic fruit and vegetables, meat pies, hot coffee, even Bratwurst may be had here, so make sure you drop in either before your game for a quick breakfast or after for a light lunch. But alas, I stray! You want to golf in Dublin, not stuff yourself.
Deerpark is the place to golf in Howth, and this complex is home to some of the most scenic golf courses in Ireland. Set amongst 450 acres of wooded parkland, Deerpark contains an 18 hole course (main course), two nine hole courses (may be played as second 18), an 18 hole championship pitch and put course, a 12 hole par 3 and a huge putting green. There's something for everyone of every caliber here at Deerpark, so it's great for families.
Non-golfers can take advantage of the Deerpark Hotel Spa or wander around the Rhododendron Gardens which lie immediately behind the hotel and were planted on what was originally bare hillside starting in 1850. Green fees vary for the different courses, but the highest rate is €26 for the main 18 hole layout.

Golf Dublin - Sutton
Just about every village in the north area of Dublin County has a golf course, and Sutton is no exception. Although it's only nine holes, the Sutton course is quite superb and will definitely challenge your links golf skills while affording you breath taking views of the Irish Sea.
Sutton is also on the DART line and about a 5 minute drive from Howth. A little pricy in that green fees are around €50 for 18 holes, but the seaside location makes it one of the nicest and most challenging locales for golf in Dublin.
Sutton Golf Club

Golf Dublin - Donabate
If looking to play golf in Dublin, Donabate, just a twenty five minute ride from Connolly station on the DART is home to 5 beautiful Irish golf courses. All are located within a five minute taxi ride of the DART station, making them very accessible to those without their own transportation. Links to all of the Donabate Courses are located below this section.
Golf Dublin – Island Golf Club
The Island Golf Club boasts itself as one of Ireland's finest links courses, and few will argue that claim. As well as being accessible by DART, it is only a 15 minute drive form Dublin Airport. The Championship Links Course is situated across the estuary from Malahide, and features beautiful views across the water.
A club with some history, The Island Golf Club was founded in 1890, and until 1973 was only accessible by boat across the Malahide estuary. It has been consistently updated over the years, and is a year round venue open to all. It is a little on the steep side as far as green fees go (€115), but if you want to experience first class links golf, it's well worth the price. Golf Dublin at the Island Golf Club.
Golf Dublin – Donabate Golf Club
This complex features three 9 hole courses that can be played in any combination, giving you a great variety of challenges. Water hazards, mature trees and undulating greens await you here, as well as a natural grass practice range (includes two greens and a practice bunker), and chipping and putting greens on which to practice your short game. Enjoyable and challenging for beginners and pros alike, accuracy and course management proficiency are required to do well here.
Golf Dublin – Balcarrick Golf Club, Donabate
Balcarrick Golf Club, is s an estuary type course combining the best qualities and features of both parkland and links style courses. The greens are respected as some of the best Ireland has to offer, and every hole features some type of water hazard. Challenging par threes and a fantastically valued green fee package make this a must destination to play golf in Dublin.
The 6,800 yard course is open year round, and par for its eighteen hole layout is 73. Perhaps the best aspect of Balcarrick is that it promotes a feeling of "being away from it all", and that's half the reason we play golf anyway, isn't it?
Golf Dublin – Beaverstown Golf Club, Donabate
One of the youngest golf courses in Dublin – only 25 years old – Beaverstown is laid out over a 132 acre scope of land, 20 of those acres being mature apple trees that blossom and fruit regularly. The natural features of the Beaverstown terrain is expertly incorporated into its layout, six lakes and a stream featuring heavily in your experience there.
Water comes into play on twelve of the eighteen holes, eight of which are lined by the glorious apple trees previously mentioned. Accuracy is critical here, making Beaverstown a challenging foray for low handicappers, while proving hospitable to beginners as well. Golf Dublin – Turvey Golf and Country Club, Donabate
Almost 500 years of history embellishes the atmosphere at Turvey Golf and Country Club. Originally constructed in 1565, Turvey is now features an eighteen hole course nestled amidst peaceful parkland. You can stay right in the accompanying hotel and walk right out onto the first tee when you arise. The parkland features majestic oaks and beeches that will test all levels of golfer on this one of the finest parkland courses in the Emerald Isle.
There are full facilities at Turvey including; a practice area, putting green, shower and locker room, providing one of the best values for golf in Dublin. The Turvey Hotel affords accommodation of great value, and golf breaks and specials can be browsed and booked online. The clubhouse contains a full modern bar and restaurant, as well as two conference rooms if you're combining business with your pleasure.
Links below.


Island Golf Club
Donabate Golf Club
Balcarrick Golf Club
Beaverstown Golf Club
Turvey Golf and Country Club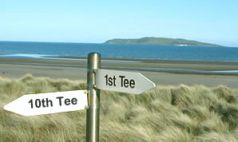 Golf Dublin - Rush
The par 70 course at Rush Golf Club is in fact the most northern course in county Dublin, and one of the smaller golf courses in Ireland. However, don't expect coolness. Due to it being a nine hole course, membership is small and congenial, the atmosphere warm and friendly. Length for men is around 5400 metres, for ladies about 4600 and the course is maintained to an excellent standard. Green fees are €32 midweek; the course is unavailable weekends due to its popularity for tournaments.

Golf Dublin - Skerries
Skerries Golf Club features an 18 hole, par 73 course with scintillating views in a delightful parkland setting. Another small town club, the Skerries course measures a little longer than the one at Rush, 6107 metres from the medal tees and featuring five par 5's a must visit for the birdie hunter! Green fees are €20 midweek and €30 weekends and public holidays.
---
Before you visit any of the golf courses in Ireland or anywhere else for that matter, ask yourself; Is your golf swing providing you with the results you need to compete? Are you throwing strokes away by topping, slicing or hooking the ball? How many penalty strokes do you typically have during a round? Only you can answer those questions. The "Simple Golf Swing" is eliminating those problems for thousands of golfers world-wide.
Make Sure You're At The Top Of Your Game Before You Hit The Golf Course. Develop The Perfect Golf Swing
You want a great golf swing? You can have it. You want to be able to chip the ball close to the pin? You will be putting the ball closer than you ever have in your life, and you'll be doing it within hours of discovering this system. You want to know what you should be thinking as you are preparing to hit the ball? It's all laid out for you here. This is one of the best golf swing teaching aids ever!
---

Golf Dublin - Clontarf
One stop out of Connolly Station in Dublin city center is Clontarf, home of the The Clontarf Golf Club, one of the most famous golf courses in Ireland. A relatively short 18 hole course, Clontarf is a pleasant and challenging. Parklands course calling for precise club selection and accuracy off the tee.
Clontarf's signature hole is the 12th., locally known as the Quarry Hole. Driving from the tee onto a raised plateau bordered by out of bounds on the right and featuring two ponds and several well placed bunkers, it has both made and ruined many a golfer's day! For non-golfers there is a fine bowling green which caters to all skill levels, restaurant and comfortable lounge, another ideal family venue. Green Fees are €30 midweek and €60 on weekends.
The Clontarf area also houses perhaps Dublin's most famous course of all: The Royal Dublin, home of the legendary Christy O'Connor. Situated on Bull Island, it's about a €10 taxi ride from Clontarf Rd. Dart station, about a 10 minutes journey. Bull Island is a sand bank just offshore in Dublin Bay which evolved when a sea wall was built to aid shipping coming in and out of Dublin Port. It's also a nature reserve and home to many species of flowers and other plant life, making for a scenic and tranquil setting.
The course is a classic 18 hole links course of 6646 meters and well worth the trip, a must play of all the golf courses in Ireland! Green fees €150 midweek and €170 weekends (selected times only).

Golf Dublin -Dun Laoghaire
The course at the Dun Laoghaire Golf Club is a short, narrow 18 hole development measuring 5313 meters for men and 4980m for the ladies.
It features an abundance of mature trees, and water comes into play on four holes. Green fees are €55 and it's located about 1.5km from the DART station, about a 10 minute,€10 ride. +353 1 280 3916 Fax: +353 1 280 4868 EMail - dlgc@iol.ie

Golf Dublin - Bray
A magnificent USGA standard parkland course awaits you here in Bray. Des Smyth and Declan Brannigan designed this course, set in nearly 200 acres of unspoiled land at the foot of the Wicklow Mountains, it's surely one of the most scenic areas to golf in Dublin. Dating back to 1897, there is an air of tradition and pride at Bray Golf Club, its most famous member probably being Keith Nolan, the Walker Cup player.
A fully stocked pro shop, a clubhouse with spectacular views and a first class restaurant complete the Bray golfing package. Green fees are anywhere from €25 to €70 depending on day and time.
Bray Golf Club




Golf Dublin - Greystones
The southern courses along the DART line are indeed some of the most breathtaking golf courses in Ireland, and Greystones is no exception! Again set at the foot of the Wicklow Mountains and high above the town of Geystones, one is inundated with beautiful scenery and magnificent views.
The 18 hole parkland course measures 5,337 metres and the par of 69 demands skill and accuracy. Green fees are €55 midweek; €60 weekends and earlybird and twilight times may be had for €40.
Greystones Golf Club


Golf Dublin – Courses off the Dart Line
These courses can only be reached if you have your own transportation, but all of them are worth the expense of renting a car. Enjoy browsing these excellent courses located a little farther off the beaten track, but are some of the best places to golf Dublin.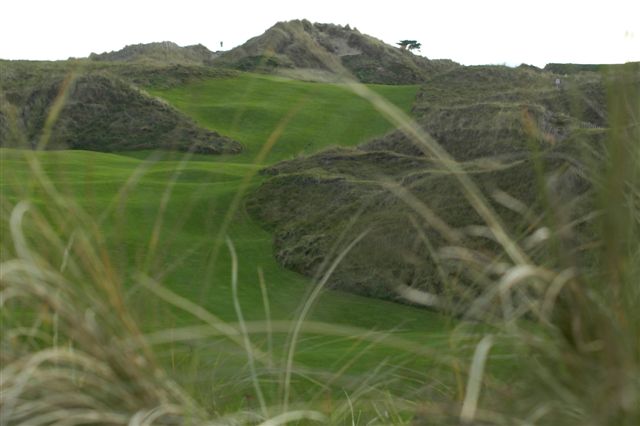 Corballis Links Golf Club
A modern par 66, eighteen-hole links course, Corballis sits on an unsullied strip of land and offers the opportunity to play first class links golf at very reasonable prices. Often a practice venue for many of Ireland and Europe's top professionals, it boasts excellent year-round playing conditions and is a swift 25 minute drive from Dublin. Golf on this jewel of a course is open to all, and more information can be found on their website.
Corballis Golf Club Website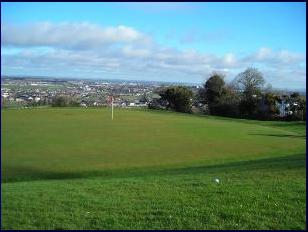 Hazel Grove Golf Club
A course in perfect condition awaits you at hazel grove, and with Green Fees of €15 for 18 holes, it can't be beat. At hazel Grove you will Golf Dublin in pleasant, friendly surroundings while enjoying the surrounding parkland. The course is par 69 for the Gentlemen, while Ladies will need to fire a 71 to make par. Only nine miles from the centre of Dublin, it is also close to the Square Shopping Centre in Tallaght, making it easy for the Ladies to amuse themselves if they are not fussy about golf. Dublin may have more challenging courses, but certainly none as pleasant as Hazel Grove, which is one of the nicest golf courses in Ireland.
Hazel Grove Golf Club Website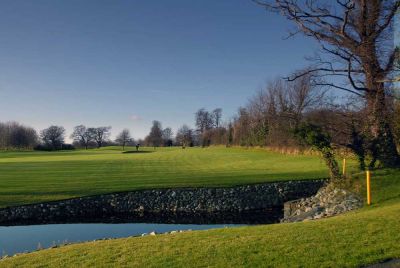 Golf Dublin - Elmgreen Golf Club
Elmgreen Golf Club, located just north of Dublin's Phoenix Park near Blanchardstown, is a 110 acre complex boasting luxuriant green fairways, spectacular landscapes and first-class training facilities. A ten minute drive from Dublin city center, it's an accessible, affordable, parkland course that shouldn't be missed.
Golfers of all levels are welcomed at Elmgreen, their Pitch and Putt Course confirming so. The club is home to three resident professionals, each ready, willing and very able to help you to hone your game. The club also features a floodlight driving range and a full 18 hole putting green where you can practice what you've learned.
The 19th hole ain't bad at Elmgreen either, their historical clubhouse is a listed property, and a great place to finish your day with a hearty meal, warm whisky, or pint of Guinness.
Elmgreen Golf Club Website

There are many beautiful places to golf in Dublin, and they range from links courses to mountain and parkland golf. For more information on golf courses in Ireland click on the link below. Fore!
---
Back to Ireland Mainpage from Golf Dublin