Chinese Food Recipes - Honan Style
These are Chinese food recipes from the Honan area known for its fish and Mongolian influenced dishes.
Learn How To Cook Low Fat & Low Carb Chinese Food From a Master Chef With 40 Years Of Cooking Experience! This is the No.1 Best-Selling Chinese Cookbook Online In The World.Check it Out Now!

Chinese Food Recipes: SWEET AND SOUR FISH
Ingredients:
1 pound fish fillets, such as cod, haddock, or sea bass
Marinade: 1 teaspoon salt
1 large egg white
1 tablespoon cornstarch
Sauce: 1 cup chicken broth
1 tablespoon light soy sauce
1 tablespoon Chinese rice wine or dry sherry
2 tablespoons tomato paste
3 tablespoons rice vinegar, or red or white wine
3 tablespoons granulated sugar
1 tablespoon cornstarch mixed with 2 tablespoons water
Other: 4 Snow Peas
1 red bell pepper
1 Red Onion
1 tablespoon ginger, finely chopped
2 tablespoons green onions, chopped diagonally
1 clove garlic
2 - 4 cups oil for deep-frying
Directions: Rinse the fish fillets and pat dry. Cut into 2-inch squares. Add the fish to the marinade ingredients, using your fingers to mix in the ingredients and adding the cornstarch last. Marinate the fish for 15 minutes.
While the fish is marinating, prepare the sauce and vegetables. In a small bowl, mix together the chicken broth, soy sauce, rice wine or sherry, tomato paste, vinegar and sugar. In a separate small bowl, dissolve the cornstarch in the water.
Blanch the snow peas in boiling water until they turn bright green. Plunge briefly in cold water. Drain thoroughly. Cut the bell pepper in half, remove the seeds and cut into cubes. Cut onion into quarters, then halve again.
Mince garlic.
Heat the oil to between 360 and 370 degrees Fahrenheit. Add the marinated fish cubes. Deep-fry until they are golden brown. Remove and drain on paper towels.
Remove all but 2 tablespoons oil from the wok. Add the ginger, green onion and garlic and stir-fry until aromatic (about 30 seconds). Add the snow peas. Stir fry for a minute and add the red bell peppers and onion.
Push the vegetables up to the sides of the wok and add the sauce in the middle. Bring to a boil. Add the cornstarch and water mixture, stirring to thicken. Serve the fish on a platter with rice, cover with the sweet and sour sauce and vegetables. Voila, a delicious chinese food recipe completed!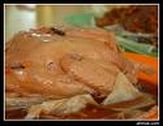 Chinese Food Recipes:
This is one of my all time favorite chinese food recipes!
BEGGARS CHICKEN Serves 4
Ingredients:
1 fresh chicken, 3 to 3 1/2 pounds, cleaned
Marinade: 2 tablespoons dark soy sauce
1 tablespoon Chinese rice wine or dry sherry
1 teaspoon ginger juice
2 teaspoons salt

Stuffing: 6 shiitake mushrooms, fresh or dried
4 ounces lean pork
2 ounces Chinese pickled cabbage, or preserved mustard greens
2 green onions
1 tablespoon light soy sauce
1 tablespoon Chinese rice wine or dry sherry
1 teaspoon granulated sugar
1/2 teaspoon sesame oil
1/4 teaspoon five-spice powder (optional),
Other: 2 tablespoons oil for stir-frying
2 large sheets aluminum foil for wrapping chicken
Directions: To make the ginger juce, grate the ginger and squeeze out the juice until you have 1 teaspoon. In a small bowl, combine the marinade ingredients. Rub the marinade ingredients over the inside and outside of the chicken and let marinate for 1 hour.
Preheat the oven to 350 degrees Fahrenheit.
While the chicken is marinating, prepare the vegetables and pork. If using dried shiitake mushrooms, reconstitute by soaking in warm water until softened. Squeeze dry and cut into thin slices. For fresh, wipe with a damp cloth and slice. Cut the pork into thin matchstick pieces. Finely chop the remaining vegetables.
In a wok or heavy frying pan, heat 2 tablespoons of oil over medium-high to high heat. Add the green onion and the pork. Stir-fry until the pork is crisp and nearly cooked through, then add the mushrooms and preserved greens. Stir in the soy sauce, rice wine or dry sherry, sugar, sesame oil and five-spice powder if using. Remove from the pan.
Stuff the chicken loosely with the stuffing and close with skewers or strong toothpicks. Wrap the chicken tightly in the aluminum foil. Place the wrapped chicken in a roasting pan. Bake the chicken for 75 minutes. Bake for another 15 minutes or until the juices run clear and the temperature of the chicken in the thickest part of the thigh is 180 degrees Fahrenheit. Remove the stuffing and serve with the chopped up chicken.

Chinese Food Recipes:
MONGOLIAN BEEF

Some chinese food recipes are best prepared using a wok. This is one of them.
Ingredients:
1 large egg, lightly beaten
2 tablespoons soy sauce
2 tablespoons cornstarch (corn flour)
1 1/4 pounds flank steak, sliced thin across grain
2 tablespoons peanut oil
1 1/2 inch piece fresh ginger root, shredded
1 1/4 pounds scallion, cut diagonally 1/8" slices
1/2 teaspoon salt
1 tablespoon sherry
2 tablespoons sesame oil
Directions: In a bowl combine the egg, 1 T of the soy sauce, cornstarch and salt, stirring until the mixture is well blended, add the flank steak, tossing it to coat it with the marinade, and let it marinate, covered at room temp for 2 hours.
In a wok heat enough of the oil to measure 1 1/2" to 375 degrees and in it fry the beef in 4 batches, stirring to separate the slices, for 10 seconds, transferring it with a slotted spoon to a bowl as it is fried and making sure the oil has returned to 375 before adding the next batch.
Pour off carefully all but 3 T of the oil and heat the oil remaining in the wok over high heat until it is very hot. Add the gingerroot and stir fry it for 5 seconds, or until it is golden. Add the scallions and the salt and stir fry the mixture for 1 minutes, or until the scallions are limp.
Return the beef to the wok, add the remaining 1 T soy sauce and sherry and stir fry the mixture for 30 seconds, or until the beef is heated through.
Remove the wok from the heat, add the sesame oil, and stir the mixture to distribute the oil. Transfer the mixture to serving dish and serve.
---
Lose Weight, Cure & Prevent Many Diseases With Green Tea. Green Tea is Known for its Anti-Oxidant Properties and Ability to Lower Cholestrol. Find Out More!
---

Chinese Food Recipes: PEKING DUCK
Ingredients:
One 5 to 6 pound duck
8 cups water
1 slice ginger
1 scallion cut into halves
3 tablespoons honey
1 tablespoon white vinegar
1 tablespoon sherry
1 1/2 tablespoons cornstarch, dissolved in 3 tablespoons water
Scallions for garnish
Directions: Clean duck. Wipe dry and tie string around neck. Hang duck in cool, windy place 4 hours. Fill large wok with water. Bring to boil. Add ginger, scallion, honey, vinegar, and sherry. Bring to boil. Pour in dissolved cornstarch. Stir constantly.
Place duck in large strainer above larger bowl. Scoop boiling mixture all over duck for about 10 minutes. Hang duck again in cool, windy place for 6 hours until thoroughly dry.
Place duck breast side up on a greased rack in oven preheated to 350 degrees. Set a pan filled with 2 inches of water in bottom of oven. (This is for drippings). Roast 30 minutes. Turn duck and roast 30 minutes more. Turn breast side up again. Roast 10 minutes more Use sharp knife to cut off crispy skin. Serve meat and skin immediately on a prewarmed dish.
The duck is eaten hot with hoisin sauce rolled in Mandarin Crepes. Garnish with scallion flowerets. This is one of the more labor intensive chinese food recipes, but well worth the effort!

Chinese Food Recipes: ROAST MUTTON KEBABS
One of the easiest of chinese food recipes!
Ingredients:
1 lb. (500g) lean boneless mutton
1/4 tsp. fresh ginger chopped
2 tsp. salt
1/2 tsp. peppercorn water
1/2 tsp. pepper
1/2 tsp. sesame oil
2 tsp. soy sauce
1/4 tsp. MSG (optional)
1/4 tsp. scallions chopped
Directions: Slice the mutton very thinly. Mix together the salt, pepper, soy sauce, scallion, ginger peppercorn, water, MSG, and sesame oil, add to the mutton, stirring until well-coated. Let marinate 30 minutes for longer.
String the mutton slices on skewers . Roast over a charcoal fire until cooked through and serve.

Chinese Food Recipes: SLIVERED MUTTON
Ingredients:
7 oz (200g) lean boneless mutton
2 tsp. soy sauce
2 tsp. rice wine
5 tbsp vegetable oil
1/2 tsp. salt
1 oz (35g) garlic shoots (substitute 1 tbsp sliced garlic)
2 oz (50g) young ginger
1 tsp. sweet bean sauce (made from fermented flour, can be substituted with Hoisin sauce)
1 medium green pepper, halved and seeded
1 tsp. dissolved cornstarch (corn flour) dissolved in 1 tsp. water
Directions: Cut the mutton into fine slivers and mix with the rice wine and salt. Cut the tender ginger and green pepper into slivers.
Mix together the cornstarch-water and soy sauce. Set aside.
Heat the oil in a wok to very hot, or until the oil surface ripples. Add the green pepper and stir-fry until they start to wilt. Remove and drain.
Add the mutton slivers and stir-fry a few moments. Add the ginger, green pepper, and garlic shoots, Stir-fry several times. Stir in the sweet bean sauce. Stir the cornstarch sauce and add. Cooking, stirring until thickened. Remove and serve.
Chinese Food Recipes: MONGOLIAN CHICKEN Serves: 4
Ingredients:
2 tsp groundnut/peanut oil
1/4 tsp salt
1/4 tsp sugar
2 tsp cornstarch
10 oz boneless skinless chicken breasts cut on diagonal
into 1/4"-thick by 2"-long slices
1/2 tsp minced garlic
2 tsp freshly-ground chilis
1/2 tsp finely-chopped onion
2 tsp cold water
2 tsp sugar
1 tbl groundnut/peanut oil
1 tbl Shaoxing rice wine or dry sherry
1/3 cup Chicken Broth
4 x Chinese dried mushrooms soaked in warm water for 45 minutes, rinsed, water squeezed out, stems discarded, caps halved
1/2 sm green bell pepper cut 1" triangles
3 x scallions (spring onions), mainly white cut into 2" lengths
1/2 tsp cornstarch mixed with, 2 tsp cold water for thickening
1 tsp sesame oil
2 tsp ground bean sauce (mo si jeung)
Directions: Mix the marinade ingredients together and marinate the chicken while you prepare all of the other ingredients for cooking. Mix together the garlic, chilis, and onion. Combine the ground bean sauce, water, and sugar.
Heat a wok, add the groundnut oil, and swirl the surface with oil. Stir-fry the garlic mixture for 5 seconds. Add the ground bean sauce mixture and stir-fry for 5 seconds. Add the rice wine and combine. Pour in the broth; then the dark soy sauce and stir to combine. Add the chicken, mushrooms, bell peppers, and scallions. Stir-fry over high heat for 2 to 3 minutes.
Then, reduce the heat a little, and stir in the thickening mixture for a few seconds.
Finally, add the sesame oil, which will impart a beautiful fragrance and richness to the dish. Serve hot.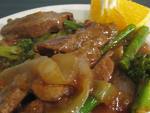 Chinese Food Recipes DOUBLE FRIED ORANGE BEEF
Ingredients:
3/4 pound flank steak
Batter: 1/2 teaspoon salt 1 egg white 2 teaspoons cornstarch
Sauce: ½ cup chicken broth 2 tablespoons soy sauce 1 tablespoon dry sherry 3 teaspoons Ketchup 2 teaspoons Brown Sugar 1/8 teaspoon freshly ground pepper, or to taste 2 medium sized Mandarin Oranges 1 1/2 teaspoons granulated sugar
Other: 2 slices ginger 2 cloves garlic 2 green onions Oil for deep-frying and stir-frying 6 dried red chili peppers
Directions: The steak is first cut into thin strips (about ½ inch) Make sure you cut across the grain. Combine the salt, egg white, and cornstarch for the batter, coat the beef, and set aside.
As the beef marinates, prepare the sauce by combining the chicken broth, soy sauce, sherry, ketchup, and pepper in a small bowl. Add the squeezed juice of the Mandarin oranges with the sugar, mix then set aside.
Scrape the white crux off of the orange peel using a sharp knife and cut the left over peel into angel hair like strips. The thinner you cut the peel. The more authentic the dish will be and the better the flavor will blend. Next mince the garlic and ginger and cut the green onions into diagonal inch long stripes.
Heat your wok over a very high heat and add enough oil to deep fry the beef. When the oil temperature has reached 375 degrees Fahrenheit, add the meat. Cook the beef until it is browned on all sides, remove and set aside to drain on paper towel.
Add the celery and submerge briefly in the hot oil (the celery should not be in the hot oil for more than a few seconds). Remove and drain on paper towels.
Drain the oil off into a holding pot or pan until only 2 tablespoons remain. Add the chilies and the orange peel and fry until chilies are darkened. Add the ginger and garlic and stir briskly until the aroma is released and add green onions.
Usher the vegetables up the side of the wok and add the sauce in the middle. Put the beef back into the pan, mix around, and heat through to serve hot over steamed rice or noodles. If the sauce is too thin thicken with a little corn starch mixed with very cold water.
We hope you enjoy some of these tasty chinese food recipes! we'll be constantly adding chinese food recipes to these pages so subscribe to our RSS for immediate alerts when we do!
---